February 12, 2003 + 2010
Dear Adoptive Parents: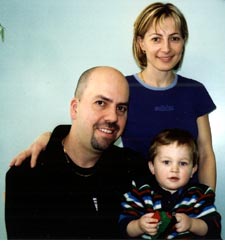 We adopted our beautiful, healthy 23-month-old boy (at time of referral) through Adoptionworx in December 2002. We were the first couple to adopt through Adoptionworx and are writing this letter to answer some questions for adoptive parents. We will concentrate on what we feel are the important issues regarding from Albania through Adoptionworx.

Firstly, we were struck by the Albanians' love for children. We witnessed it first-hand, from police officers on the street interacting with children, to a street person giving our son a rattle. One time, we had our son and were walking down the streets of Tirana with our stroller, when cars began to yield to us when we were crossing the street. (You will understand the significance of this on your first drive through Tirana!!). Albanians have a very family-oriented culture, which leads to their natural love and respect for children.

Our son was adopted from a Christian orphanage in Elbasan, run by The Missionaries of Charity (Mother Teresa). We visited several times and took the time to get to know the 12 other children in the orphanage. All looked and behaved like normal, healthy children of that age. They all looked well-fed and clothed, and there was plenty of stimulation around them from toys, caregivers and other children. The building was in excellent repair and was extremely clean, although a little damp due to concrete construction, which is the norm in Albania. We were actually quite relieved to know that our son had been in this institution since birth, as there was no doubt that he had been well cared for.

While in Tirana, we also had the opportunity to visit the next two children that Adoptionworx was bringing home. They resided in a very well kept state-run orphanage, which had been generously funded by an American church organization. The care of the children was once again evident, as the Albanian ladies took pride in introducing us to their children. The children looked healthy and happy.

The major bonus for us was the quality of people that Adoptionworx has put into place in Albania. We were treated like visiting family members and they would call or visit every day to see if we needed anything, or if we just wanted to meet for a cappuccino, which we did quite often. You need not spend one moment worrying about your time in Albania; the people are genuine.

The most important asset you have is Vicki O'Toole. If you haven't already figured it out, she is a go-getter. Rest assured that she will not leave any stone unturned or any detail overlooked to make sure you come home with your child, on time. We found this to be quite refreshing, since most our experiences as customers these days, equate to unreturned phone calls, details overlooked and a lot of mistakes. You will get the service that you are promised from Adoptionworx.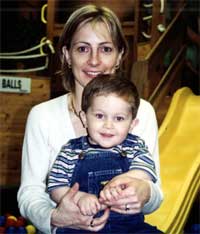 We arrived home on December 31, 2002 with our new son, Connor. There was an adjustment period of about two weeks where he underwent some grieving, as he was very attached to his caregiver in Albania. After the two weeks, his progress was exponential. Today, he has formed a strong bond with each of us. He enjoys visiting his extended family of aunts, uncles, grandparents and cousins, as well as participating in many activities. We really only have one area of serious concern at this time; he has discovered Barney!

After enjoying our only son for many years, we decided that we would adopt another child through Adoptionworx Canada. Everything went as expected, the process was flawless and refined. Before we knew it we had another beautiful, healthy son; Cameron, who came home in 2010. The Albanian Program Director for adoptionworx, Jani, was a real gem. He made our time there enjoyable, and we still keep in touch. Albania had come a long way since our last visit and this time it felt more like a holiday.

We took our older son, Cameron, along with us on the second trip to pick up his little brother. We showed him around and took him to visit the orphanage he was from. His rceception was fit for a king. The caregivers and orphanage director went crazy for him. They picked him up, hugged him and wouldn't let him go. They showed him his old bed and where he used to eat. He knew he was loved there!

These days we are very busy with very little spare time. Hockey x2, Soccer x2 (even in the winter!), swimming and much more. And we wouldn't have it any other way!

Wishing you the joy and happiness that we have found,
Steve, Lynn, Connor + Cameron
Richmond Hill, Ontario
Canada